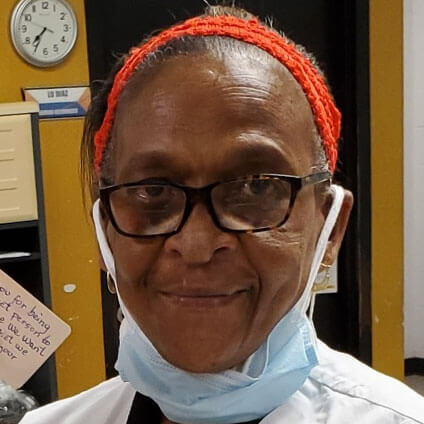 Maria A.
It is always nice to feel appreciated, and when an employee of an airline client takes the time to do something like this, it makes our hearts sing.
Maria has always been a hard worker and has spent hours helping to keep airline employees safe and healthy by cleaning and disinfecting well-traveled areas.
Carolyn Miles, an Operations Manager at Flagship Aviation said:
"Since COVID-19, safety and disinfection precautions have been greatly enhanced. Maria has put in even more hard work and effort when cleaning her areas. She wants to make sure she does everything possible to keep our airline employees and airport passengers safe and healthy. She also does all this with a cheerful attitude. You can tell she's smiling even under all her PPE."
As a special thank you, a flight attendant delivered a beautiful bouquet of flowers and a sweet note for Maria. The note said:
"Thank you for being such a sweet person to us. We want you to know that we really appreciate your hard work"
This special note really meant a lot to Maria, and she deserved it. Her ability to go above and beyond, especially during a pandemic, to make sure others were safe is a testament to her character.
Flagship Aviation proudly serves leading airlines and airports from coast to coast. But our employees and their willingness to go above and beyond to deliver a safe and healthy atmosphere while providing a friendly experience…continues to be our greatest asset.