Welcome to the New Definition of Clean

The future of facility services is constantly evolving and demanding transformation. COVID-19 presented a unique opportunity to reimagine and reshape the industry.
Drawing on our decades of experience in fighting pandemics (Ebola, SARS, H1N1, COVID-19), we've redefined clean with a four-pronged approach that will scale with your operations through seasonal challenges and beyond.
This approach can be adapted to meet the unique demands of your facility, while prioritizing the health and safety of your employees and guests.
Trust Flagship to expertly guide you through flu season, COVID-19, seasonal allergies, and future challenges.
Refocus
COVID-19 forced business leaders to face new obstacles in an already rapidly changing world. PUREClean allows you to redefine your scope of work (SOW) to concentrate on the highest-impact areas of your facility. Our process will help you refocus and create a welcoming environment for employees and guests.
Disinfect
Before COVID-19, disinfection efforts primarily focused on restroom surfaces. Today, that is simply not the case. We recognize this shift and the importance of comprehensive disinfection. So, we developed a multi-target disinfection strategy that encompasses surfaces and indoor air quality throughout the facility.
PUREClean effectively disinfects the whole facility using state-of-the-art equipment and EPA-approved chemicals that remove, capture, and destroy harmful bacteria and viruses – on surfaces and in the air.
Educate
Creating and maintaining a safe, clean environment is a collective responsibility, requiring coordinated efforts from leaders, employees, and facility services vendors. In addition to our decades of experience, we relied on guidance from governing agencies like the CDC and EPA to develop, adapt, and enhance our procedures to better protect the health of all employees and guests.
We've created educational resources tailored for you and your employees containing valuable information on how to maintain a PUREClean facility.
Adapt
The ability to change and be fluid during times of uncertainty is essential. As your business evolves and faces new challenges, we'll adapt our SOW to keep pace – ensuring that our service delivery aligns with your operational needs and our efforts focus on areas that have the most critical impact.

Flagship's PUREClean prioritizes the health and well-being of your employees, empowering you to focus on your business.
Customer Testimonials
We are committed to helping you and your employees combat the spread of diseases. Here's what some of our customers had to say.
Download the Stay Open Responsibly Guide
This guide is designed to help answer your questions about how to maintain a healthy facility and navigate the process of staying open responsibly.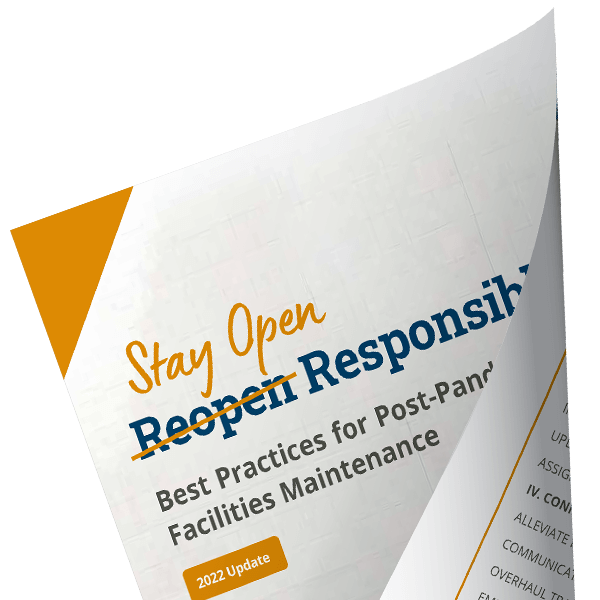 The EPA has compiled a list of approved antimicrobial products that are effective against common pathogens.
The CDC created a cleaning guide for employers and facility operators, which includes instructions on how to disinfect various surfaces and when to perform cleaning tasks.
The CDC has produced a poster to promote the washing of hands after all activities. Download it and post it around your facility. (English and Spanish versions available.)